Next Generation Adhesives From 3M
Next Generation Adhesives From 3M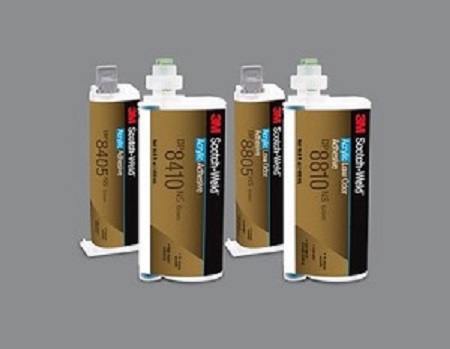 3M™ Scotch-Weld™ Structural Acrylic Adhesives
Next Generation Adhesives From 3M
Manufacturers around the world rely on acrylic adhesives to design and produce innovative new products. Acrylic adhesives improve aesthetics, bond to plastics and metals, and even deliver a secure bond between oily or contaminated surfaces. Despite improving many aspects of the assembly process, traditional acrylic adhesives have been challenged by:
High levels of odors that can cause EHS concerns
Longer set times that slow assembly processes
Lower impact resistance that result in brittle bonds
Limited shelf life
Next Generation Advancements
The development of 3M™ Scotch-Weld™ Low Odor Acrylic Adhesives was enabled by collaboration between divisions of 3M. 3M's dental division had developed a fast-setting, low odor dental impression material that has brought long lasting smiles for many years. 3M product developers saw the potential for this technology and worked to adapt it to bring those same unique benefits to Structural Acrylic Adhesives.
Designed for innovation, 3M™ Scotch-Weld™ Structural Acrylic Adhesives will help you improve both productivity and performance, while reducing environmental concerns and costs.
Next Generation Structural Acrylic Adhesives from 3M bond faster and deliver higher impact resistance, helping you to build better products and improve productivity.
Features & Benefits:
Low odour grades for a comfortable working environment
DP8805NS can reach structural strength in less than nine minutes!
Bonds powder coats and other difficult-to-bond materials
Suitable for pre-powder coat bonding Elevated temperature performance to maintain strength at 180ºF (82ºC)
Low exotherm, ideal for heat-sensitive substrates
Non-sag formulation for vertical or overhead applications
DP8405NS excellent impact resistance compared to ordinary acrylic adhesives
DP8407NS especially suited for bonding metals
18 month shelf life - no refrigeration required
We accept: